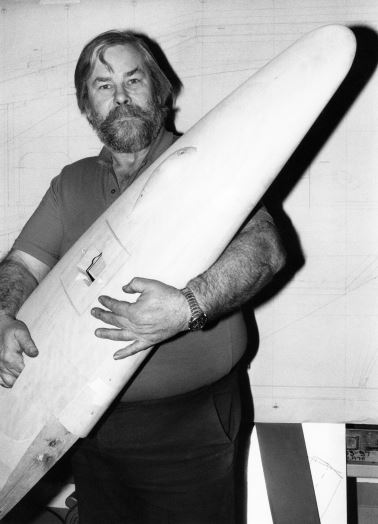 Bo Johansson, CEng
One of the first to participate in the Quicksilver  project, Bo Johansson was born in Lit in central Sweden in 1942 but spent much of his later life here in England. He had engineering in his blood, being raised in the tradition of his father's precision toolmaking business from the age of seven. At 19 he became a fighter-pilot in the Swedish Air Force, flying the Saab 29 Tunnan aircraft. He was drawn to motorsport, too, race-preparing cars for several drivers when his professional flying commitments allowed and accompanying them to all the major European circuits purely for the enjoyment of it. His first foray was with a Porsche Spyder at the Le Mans circuit in 1960. From there he progressed into European Formula 3 and, much later, he was engaged on a consultative basis by the German-based ATS Formula 1 team, assisting his close friend, the Swedish racing-driver Slim Borgudd. He subsequently followed Borgudd into European truck-racing.
Racing-car fabrication became a full-time business for Bo when he formed the Swedecar company at Bruntingthorpe Proving Ground in Leicestershire – later transferring to Coventry Airport. He still maintained an interest in flying, however, acquiring and restoring a Jet Provost T Mk 5 aircraft, which flew on the UK civil register as G-JPTV.
Bo is pictured here in his workshop at Bruntingthorpe, holding the hull section of a windtunnel test model of the very first Quicksilver  concept. He used this wooden model as a pattern from which to make a waterborne version in fibreglass, which was needed at that time by chief designer Ken Norris for towing-tank tests at Southampton University.
Soon after, when Norris turned his attention to the idea of a different type of concept for Quicksilver  – this time, a boat based closely on the design of Donald Campbell's Bluebird K7 – Bo got the opportunity to demonstrate his sublime skills on an altogether larger scale, embarking on the daunting task of building a full-sized boat with unbridled energy. Although a decision was taken by Norris to abandon this boat concept (Concept 2) at a stage when the hull had been more than half-completed, Bo had by then established a valuable role in our project in its crucial growing years, a role which included attracting several key individuals to join us or otherwise assist us.
Tragically, several years on, his health declined following a fall and he subsequently passed away.
In an interview with Danish television some years later, Nigel had this to say about the man brought up within the Arctic Circle who spoke very little but worked very much: "I first sat face-to-face with Bo on a bleak winter's day at Cranfield, when there was no-one in our project but Ken and I. No-one! So Bo was the first one to join us and make it a team. It was early, early days. Ken was a theorist, for the most part. We had a three-view drawing and that was all. But now I was sitting opposite this huge Swedish fellow who looked like a wrestler, who really knows his aircraft and his racing-cars, and he's sketching an isometric drawing – on the back of an envelope, almost – showing the details of what would go within  Ken's concept. The structure, where the engine goes, how the bulkheads fit, where the electrical wiring passes through from front to back. A beautiful little 3D sketch, and it suddenly brought the thing to life for me and made it seem real and do-able in a practical sense.
"I remember Bo for his direct and sometimes plain blunt way of putting things, and most of all for his enthusiasm and dedication to the Quicksilver  project, which began at a time when it literally had no name and there was virtually no substance to it.
"He had the faith."