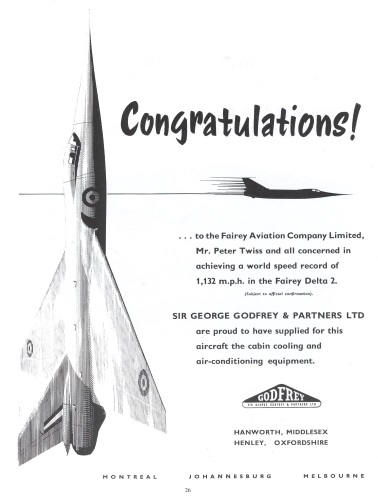 This is the Fairey Delta 2, which in March 1956 became the last British aircraft to break the World Air Speed Record and the first in the world to exceed 1,000mph in level flight. Its intrepid pilot was 34-year-old Lieutenant Commander Peter Twiss, and the speed of 1,132mph – twenty miles a minute – was a stunning 310mph faster than the existing record, set the previous year by an American plane and pilot.
In the late 1940s, Britain was lagging behind in supersonic aircraft design. To redress this situation, the Ministry of Supply issued a specification for a research aircraft for investigation into flight and control at transonic and supersonic speed, and Fairey Aviation got the contract.
Fairey's Sir Robert Lickley led design and development of the Fairey Delta 2, which was powered by a single Rolls-Royce Avon turbojet and featured a very thin, delta-shaped wing and a forward fuselage that could be drooped ten degrees to improve the pilot's visibility during taxying, take-offs and landings. Flying during a period that many regard as the most exciting in aviation history – a time when there seemed no limit to what was possible – Peter Twiss and the Fairey Delta 2 will be forever associated with British excellence in the air.
The triumph which secured the aircraft's enduring fame and earned Twiss an OBE the following year came about almost incidentally. "As we were developing the Fairey Delta 2," Twiss recalled many years later, "we realised that we were flying virtually every day at speeds above the current world air speed record". A record attempt was therefore logical, if not central to the aircraft's intended purpose, and Twiss was instrumental in persuading his employer Sir Richard Fairey to back it.
"There was no sensation of speed," Twiss remarked shortly after setting the record. He hadn't been particularly comfortable aloft, for although the outside temperature at altitude was 60 degrees below zero, air friction over the aircraft's skin at the phenomenal speed caused the temperature in the cockpit to reach more than 100 degrees.
Twiss, who stood six feet seven inches tall, had been an outstanding wartime Fleet Air Arm pilot flying, during the course of the hostilities, a great many combat missions over enemy-occupied Europe and far-flung Sicily and north Africa. His mounts included Hawker Hurricanes launched off merchant ships, and Fairey Fulmars and Supermarine Seafires; later he flew night-time missions in Bristol Beaufighters and de Havilland Mosquitos. But his airmanship in war was evenly matched in peacetime, and although the Fairey Delta 2 is synonymous with his name, his postwar flying career as a test pilot with Fairey Aviation was a distinguished one embracing types ranging from that thoroughly practical naval warplane the Gannet to the altogether fantastic and ultimately doomed Rotodyne compound gyroplane.
Danger is ever-present in testing, and Twiss was awarded the Queen's Commendation for Valuable Service in the Air after coaxing the Fairey Delta 2 back to its Boscombe Down, Wiltshire base from 30,000 feet when fuel starvation caused total engine failure, rendering it a deathtrap. Twiss somehow managed an unpowered, wheels-up landing with no hydraulic pressure and the nose still in its undrooped position – a remarkable feat. This close shave did not shake his confidence that here was an aircraft capable of greatness, and so it proved.
"It turned out to be a very gentlemanly, stable aircraft," was how the test pilot understatedly summed up the Fairey Delta 2 in later life. With his time with the aircraft finally over, he joined the Fairey company's marine division. He competed in powerboat racing, flew a Fairey Swordfish torpedo bomber in the film Sink the Bismarck!  and drove a Fairey speedboat as Sean Connery's double in a dramatic action sequence for the James Bond movie From Russia With Love. Even into his eighth decade, he was flying gliders for recreation.
Two Fairey Delta 2s were built, at the company's works in Stockport. The type's maiden flight took place on the 6th of October 1954. While much of the flight-test programme was conducted at the French aircraft manufacturer Dassault's airfield at Cazaux, not far from Bordeaux, for the record attempt a nine-mile-long course was established just inland of England's southern coastline, between Chichester and Ford, with the aircraft flying at 38,000 feet.
Like to know more about the air-speed adventure? Peter Twiss wrote an autobiography entitled Faster than the Sun, which is well worth reading. An edition published by Grub Street, ISBN 1-904943-37-3, is readily available.
If you want to see a Fairey Delta 2 today, one is displayed at the RAF Museum Cosford, near Telford in Shropshire. The actual aircraft that broke the world speed record is displayed at the Fleet Air Arm Museum at Yeovilton in Somerset, although its appearance has changed considerably, as it was modified in the early 1960s for flight-testing of key design features of the Anglo-French Concorde  supersonic airliner, which at that time was under development. So extreme was the transformation that this Fairey Delta 2 became a type in its own right – the BAC 221.
For details of opening times at the two museums, visit www.rafmuseum.org.uk/cosford and www.fleetairarm.com
Images this page © Fairey Aviation, Pye Telecommunications, Sir George Godfrey and Partners