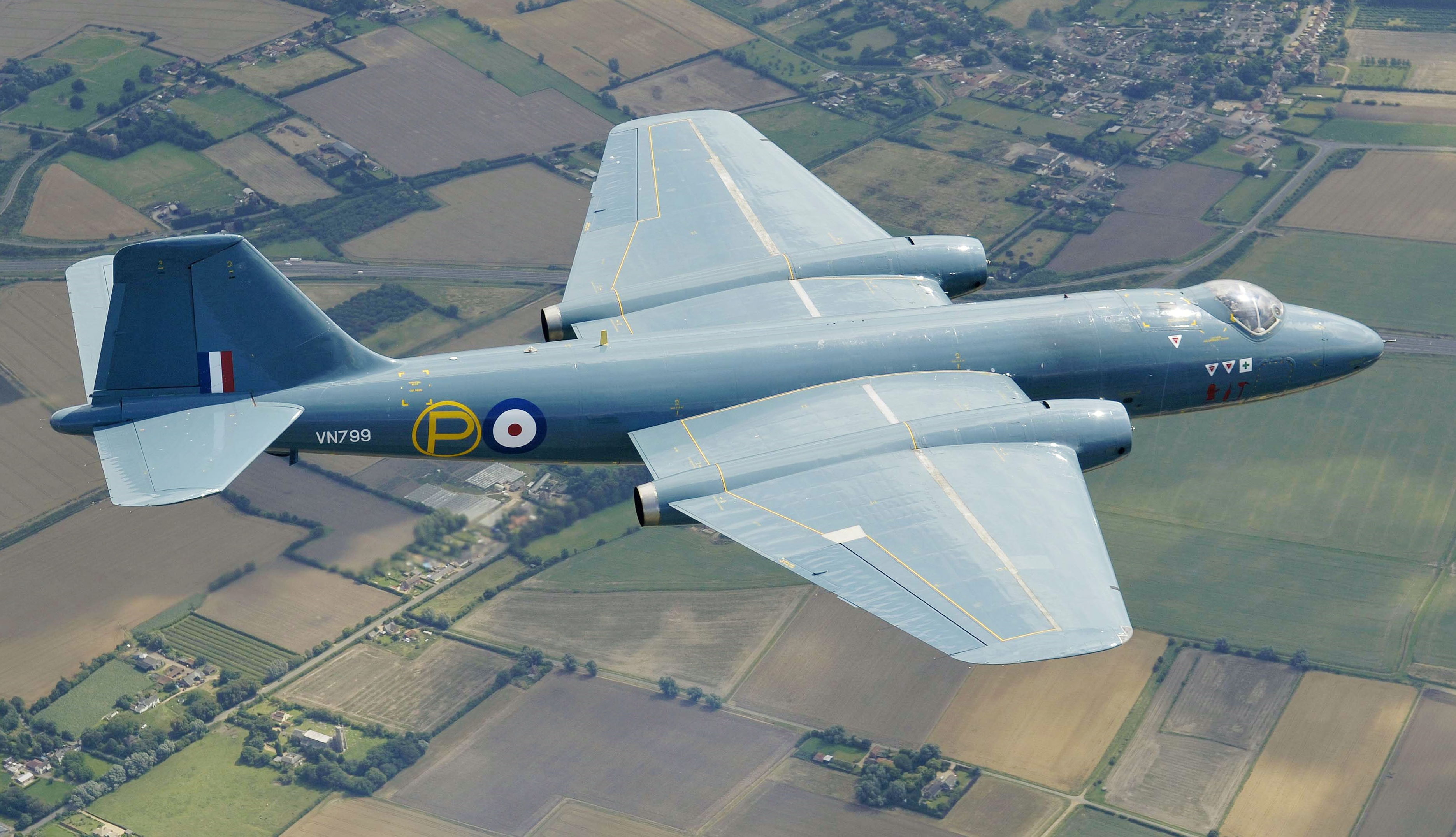 That the Canberra created a huge stir on first arrival is undeniable. In September 1949, test pilot and former wartime ace Roland Beamont startled a vast crowd at the Farnborough airshow with a breathtaking display that left no-one in any doubt that here was an aircraft that defied conventional notions as to what a bomber could do. Climbing steeply, accelerating to higher speeds than any bomber of its size had gone before, pulling tight turns with its wings almost vertical to the ground, the Canberra possessed fighter-like agility. This was to be just the first of many influential demonstrations by Beamont of the Canberra's remarkable performance.
Designed by W.E.W. (Teddy) Petter as a high-speed, high-altitude medium bomber to replace the aging, piston-engined Avro Lincolns and de Havilland Mosquitos then in frontline RAF service, the Canberra was the product of the English Electric company in Preston, Lancashire. It was powered by two Rolls-Royce Avon turbojet engines installed in wing-mounted nacelles. The blue-painted prototype made its 27-minute maiden flight several months before that impressive Farnborough debut, on 13 May 1949, with Beamont – English Electric's chief test pilot – at the controls.
English Electric had built aircraft before, but almost exclusively they had been those of other companies' design – in particular, in wartime, Handley Page Hampdens and Halifaxes, both bombers. But here, in the Canberra, was a new product from its own drawing-boards. English Electric's important but relatively low-profile involvement in aircraft manufacture was the source of some confusion when word of the Canberra's existence found press attention. At least one national newspaper wrote of Britain's first "electric bomber"!
For forever afterwards, however, the name of the company best known hitherto for its domestic cookers, washing machines and water heaters was firmly established as an innovative and capable player in the aeronautical sphere.
The Canberra has the distinction of making many significant 'firsts' in aviation history. It was a Canberra that made the first-ever jet crossing of the South Atlantic in both directions, and in 1951 a Canberra flown by Beamont from the UK to the USA made the first non-stop crossing of the Atlantic Ocean without refuelling. Several speed records were set by the Canberra during the London-to-New Zealand Air Race, staged in 1953. And in 1954, a Canberra became the British aircraft to overfly the North Pole. In 1956, a Canberra was the first British aircraft to be flown with thrust augmentation from a fully-controllable rocket engine (that being the de Havilland Sprite, an engine designed to briefly augment the power of jet aircraft to either gain higher altitude rapidly or perform take-offs at increased weights).
Although speed is our subject, it should be noted that the Canberra was a formidable high-flyer that set several Absolute World Altitude Records. Indeed, it could fly at a higher altitude than any other bomber throughout the 1950s. In May 1953, a Canberra fitted with Rolls-Royce Olympus turbojets reached an altitude of 63,668 feet, then in August 1955 the Canberra raised the bar to 65,876 feet. In 1956 a Canberra reached an altitude of 70,310 feet, boosted by a Napier Double Scorpion liquid-propellant rocket motor.
At the opposite end of the altitude scale, in 1960 a modified Canberra took part in Operation Swifter in Libya – an investigation into the effects on aircraft structures of turbulence at low-altitude and high speed.
The success and adaptability of the Canberra's design was such that it was built in 27 versions which equipped 35 RAF squadrons, and it was exported to more than 15 countries including Australia, Argentina, Chile, Ecuador, Ethiopia, France, India, New Zealand, Pakistan, Peru, Rhodesia, South Africa, Sweden, Venezuela and West Germany. There were trainer versions, versions optimised for reconnaissance and electronic warfare work, adaptations for target-towing duties, and even a conversion for ejector-seat testing.
Additionally, a derivative of the Canberra, the Martin B-57, was built in substantial numbers under licence in the USA and served in the Vietnam War, and for many years thereafter. A total of 403 B-57s were manufactured across several versions.
When the Canberra was finally retired by its original operator, the RAF, in June 2006, it was 57 years after the type's first flight.  Meanwhile, to this day, three examples of the Martin B-57 variant remain in service in the USA, performing important meteorological work with NASA.
Back here in the UK, one of the actual world-altitude-record-breaking Canberras has not only survived, but may even be restored to airworthiness in due course. For more information, visit www.vulcantothesky.org/canberra-wk163