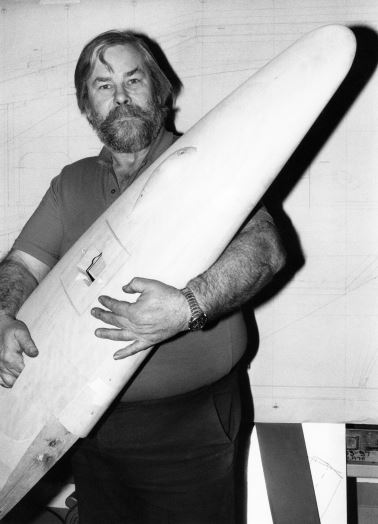 Bo Johansson
This new section of the site memorialises some of those who made a major contribution to the Quicksilver project early on in our endeavours but are no longer with us. It will be developed over time as a lasting tribute to their devoted efforts to the cause of bringing the boat into being.
One of the first people to join the Quicksilver  team, Bo Johansson was born in Lit in central Sweden in 1942 but spent much of his later life here in England. He had engineering in his blood, being raised in the tradition of his father's precision toolmaking business from the age of seven. At 19 he became a fighter-pilot in the Swedish Air Force, flying the Saab 29 Tunnan aircraft. He was drawn to motorsport, too, race-preparing cars for several drivers when his professional flying commitments allowed and accompanying them to all the major European circuits purely for the enjoyment of it. His first foray was with a Porsche Spyder at the Le Mans circuit in 1960. From there he progressed into European Formula 3 and, much later, he was engaged on a consultative basis by the German-based ATS Formula 1 team, assisting his close friend, the Swedish racing-driver Slim Borgudd. He subsequently followed Borgudd into European truck-racing.
Racing-car fabrication became a full-time business for Bo when he formed the Swedecar company at Bruntingthorpe Proving Ground in Leicestershire – later transferring to Coventry Airport. He still maintained an interest in flying, however, acquiring and restoring a Jet Provost T Mk 5 aircraft, which flew on the UK civil register as G-JPTV.
The picture at left, which was taken in Bo's workshop at Bruntingthorpe, shows him holding the hull section of a windtunnel test model of the first Quicksilver  concept. Soon after, when chief designer Ken Norris turned his attention to the idea of building a new boat based closely on the design of Donald Campbell's Bluebird K7, Bo got the opportunity to demonstrate his sublime skills at full scale. Although a decision was taken to abandon that project when the hull was more than half completed, Bo had established a crucial role in our team in its earliest years, added to which he had attracted several key individuals to join us or otherwise assist us.
Tragically, several years on, his health declined following a fall and he passed away.
Without Bo and people like him, there would be no Quicksilver  project today. There were no guarantees that their efforts would lead to anything, but still they gave of their time. Patience was needed in large measure, but that is all part of this infuriating game.